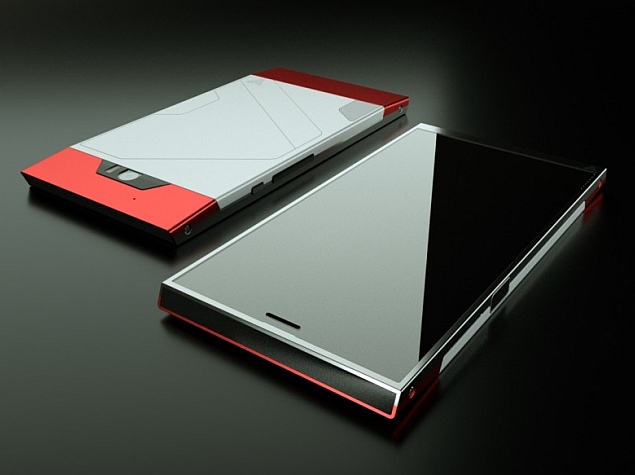 In August this year, the 'unhackable, unbreakable, and waterproof' Turing Phone was announced tostart shipping in December. However, Turing Robotic Industries has now sent an email announcing that it needs some more time and that the shipping date has now been delayed. It is worth noting that the smartphone already went up for pre-orders earlier this year.
"TRI needs more time to make sure when the Turing Phone is delivered it'll be one of the best mobile devices ever conceived. To accomplish this, we ask for your patience and continuous support," the email said.
For those who have already pre-ordered the smartphone, the company is giving them two compensation options, reports Android Police. Either they can cancel their pre-order and receive the refund, or they will receive a free inbuilt storage upgrade if they stick with their pre-orders. Those who had ordered the 16GB inbuilt storage version will now get the 64GB version, and those that had ordered the 64GB version will get the 128GB version. Those who ordered the 128GB version will get the smartphone's limited edition model.
The company is yet to announce the revised shipping date for the Turing Phone. It however, has promised to roll it out by the end of Q1 next year.
Launched in July this year, the 5.5-inch Turing phone has no USB port and no headphone jack. The smartphone is called 'unhackable, unbreakable, and waterproof' as it features end-to-end encryption built into most of the core apps on the phone. It is made of a material called liquidmorphium that is stronger than steel or aluminium and apparently the next big thing in phones. The phone is also extraordinarily waterproof owing to a nano-coating on the internals. No rubber is used and everything is accessible and open.
It runs on Android 5.1 Lollipop with Turing Aemaeth UI. Other specifications of the Turing Phone include a 5.5-inch full-HD (1080×1920 pixel) display; 2.5GHz quad-core Snapdragon 801 SoC; 3GB of RAM; a 13-megapixel rear camera with dual-LED flash; an 8-megapixel front-facing camera; 4G LTE, Wi-Fi 802.11ac, Bluetooth 4.0 LE; NFC; GPS/ Glonass; and a non-removable 3000mAh battery. Sensors include fingerprint, accelerometer, gyroscope, magnetometer, proximity, ambient light, temperature, and humidity.
The Turing Phone has three colour variants – Beowolf, Pharaoh, and Cardinal. All three colour variants are available in 16GB, 64GB, and 128GB variants, priced at $610 (roughly Rs. 39,000), $740 (roughly Rs. 47,300), and $870 (roughly Rs. 55,700) respectively.
Dear TRI Fans,

The year 2015 is drawing to a close, and the Turing Phone continues to earn worldwide recognition through featured media headlines. We truly appreciate the continued faith you have in TRI and want you to know how important it is for us to put a Turing Phone into your hands. In the last 12 months, we've made it from a laboratory experiment to a fully production-ready product that is nothing less than extraordinary and through your support, we did it together.

The Turing Phone isn't just a hardware device, it's the perfect blend of both hardware and software. While we have achieved the claims we've made earlier this year – from our signature Liquidmorphium frame to the waterproof feature, the last remaining developmental step is our OS and the security platform. Many of you have asked us to support Google Play Store and we listened. We are inching closer to fulfill our promise of delivering a truly secure OS while allowing you the ability to download apps that you're familiar with and use regularly.

TRI needs more time to make sure when the Turing Phone is delivered it'll be one of the best mobile devices ever conceived. To accomplish this, we ask for your patience and continuous support. Because we'll miss the December 18th shipping deadline, we are offering the following options for you to consider:

1. If you pre-ordered the phone(s), we will upgrade your current order, eg., 16GB phone upgraded to a 64GB, 64GB upgraded to 128GB, 128GB upgraded to the limited edition model.

2. If you can't wait a few short weeks longer, you may cancel your pre-ordered Turing Phone (s), and receive an immediate full refund.

Choosing to stay with TRI, we can ensure that it will be worth the wait. You are our most valuable asset and we are committed to bringing you the very best products and services we possibly can. This is our promise to you!

The exact shipping date will be announced later this month. It will be no later than the end of Q1 2016.

Thank you for staying with us all this time and for your understanding.

Sincerely,

SYL Chao

CEO | TRI
Resolution
1080×1920 pixels
loading...